Kastellorizo or Megisti is a Greek island in the eastern Mediterranean, about three miles off the Turkish coast.It is located 120 km east of Rhodes and covers 9.113 km². In general public the island is known by theOscar-winning film 'Mediterraneo'!
The name Maximum, as the official name of the island, was because it was the greatest of all the small islands in the region.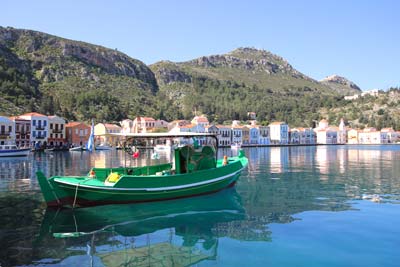 The name Kastellorizo 'Castello Rosso' is Latin and means red castle, because of the red colored rock on which the citadel of the island was built.
The houses are built two or three floors high with colored shutters which are authentic examples of traditional Dodecanese architecture.
The intense beauty of this island is mainly due to the common materials used such as stone, wood, iron and tiles.Kastellorizo is ideal for quiet holidays and rewards every visitor with its amazing beauty, the stunning locations for swimming and the unique hospitality of its inhabitants.Finally Kastellorizo is a great place for diving, fishing and sailing.
The island provides several restaurants offering greek food and especially fresh fish and seafood. Also do not forget to look for the traditional chickpea and the local sweets 'awry' and 'katoumaria'.
Remarkable Monuments Kastelorizo
-The Saint George island with the old monastery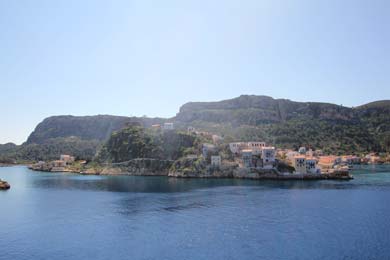 -The castle of knights
-The old castle
-The Lykiakos Tomb
-The archaelogical museum
-The Church of St. Constantine and Helen
-The blue grotto with stalagmites
-The Santrapeia school
-The kyra of RO
-The Mosque
Excursions Kastelorizo
-Galazia Cave (blue grotto)
It is a huge cave from exceptional beauty, especially the stalactites and stalagmites bathed in blue colorswhen the sun shines through in the morning.
-Island of Ro
You can swim in the beautiful clear waters of these two destinations.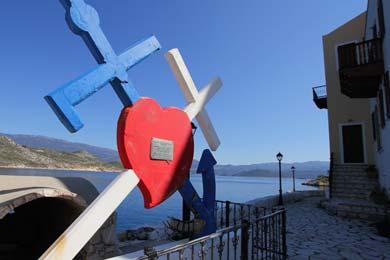 -St. George Island
There you can swim, sip your drink and enjoy snacks overlooking Kastellorizo and the Turkish coast.
-The Turkish town of Kas.
You can go there with the local boat (25 minutes) to visit the bazaar and taste oriental flavors.
-Kastellorizo has a lot of paths which are ideal for walking tourism.
You can walk up to the mountain in order to visit the monastery of Panagia in Palaiokastro or old monastery of St. George of the mountain which has recently has been renovated.
-This year the local Hamam will be ready for use. It is an old Turkish hamam which is located next to the castle of Kastellorizo. Fans of massage can go there and enjoy special body treatments.